Every year, I struggle with what to get my dad for Father's Day.  And his birthday.  And Christmas.  I mean, I think most of us can agree that dads are just so freakin' difficult to shop for!!  Crafting Extraordinaire Cheryl, from Cheryl Elizabeth Crafts, has found a fun way to make something that Dad will love with this DIY building block desk organizer.  
DIY Building Block Desk Organizer
Father's Day gift for the hip & modern Dad
There are a lot of cool, gadget-like things to get Dad for Father's Day. And anything homemade is always super adorable. This Father's Day gift is kind of a combo of both. It's easy, cheap on supplies, and also a cool art piece for the desk.
This is a project for adults & kids to do together. It takes a little bit of imagination, but with two basic ideas in mind, anyone could make something awesome. The first idea is finding the right base and the second is finding a good prop to support the phone or tablet.
As always, BE CREATIVE. I wanted to use Legos because I saw a ton of cool things made from them. However, today's Lego kits are super sophisticated and I soon learned I wouldn't get the shape I had visualized in my head. I wanted my sculpture style to be cubic and modern, but a little retro.
I had so many other ideas, too! I played around with using a small toy tractor or a pyramid of army men for my prop. With a little paint and glue, you could turn almost any solid toy into a prop. Just make sure you perform a few test rounds by propping your phone or tablet against the toy to see how it rests.
Cell phone/tablet desk organizer–Father's Day gift, gifts
Completion time: 1-2 days
Supplies/Product List:
-Childs toy/Blocks (desired amount)- Spark Create Imagine blocks from WalMart or around the house
-Base/Picture frame (1)- from Goodwill or around the house
-Push pins (2)
-Hot glue/Hot glue gun
-Paints (desired colors)- Acrylic Amsterdam, Liquitex
-Sharpie (optional)
Additional supplies (if needed)
-Screwdriver
-Stapler remover
-Strips of felt
Instructions:
For the base: Look around the house for a strudy picture frame (5×7 or so.) I used a thick 5×5 "wood" picture frame I found at Goodwill. It was a decorative wall-hanging, something you'd see in a 90's kitchen. Very classy.
For the prop: Have your child look through the toys they don't play with anymore. Using your child's actual toy is definitely more sentimental, but there are lots of ways to go.  If you can't part with any toys, go to a yard sale or thrift store and find something retro that Dad would like. Since I didn't use Legos, I ended up getting some discount toddler blocks from the store. They were perfect!
Make extra sure that your prop is compatible to your base. Not only does it have to fit, but there needs to be enough room on the base to hold the phone or tablet. Play around with your objects until you know how it will all come together. I had a lot of blocks to choose from so I arranged the blocks until I had the desired look I was going for.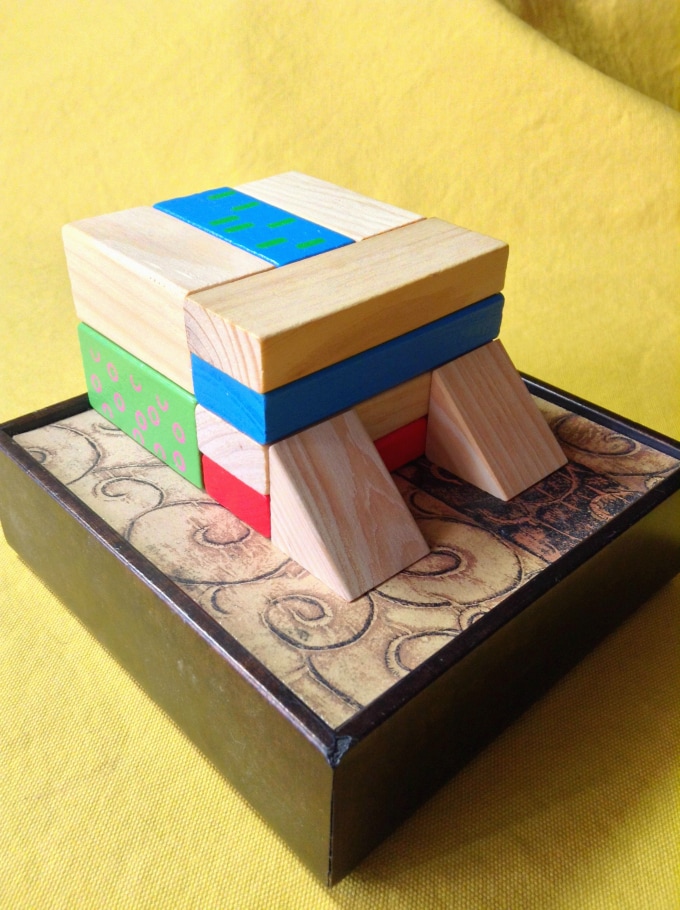 This desk organizer is a fun project for the kids to help with for Father's Day, birthdays, or Christmas 🙂
Back to the base: My picture frame had a few staples, and a latch screwed on to the back. Make sure to remove these items so that your frame will lay flat on the desk surface. If your frame has a stand, you will need to carefully remove that too. Most picture frames will have glass or plastic to protect the picture. My frame had a built-in image without either, so I knew imediately that I would be painting directly on the image.
*If your frame has glass or plastic, you will need to do things a little differently.  See the extra instructions at the end of this blog.
Paint your base: I thought about the color scheme in advance. First, I painted over the image with white paint. It took about 3-4 coats to get it covered completely. Then I carefully painted the frame black. The frame color was already a dark faux wood brown, so it only took 2 coats to cover it. Let dry completely.
Back to the prop: Since I knew what colors I wanted to use, I took a pencil and wrote the color I wanted to paint on the corresponding block so I wouldn't get confused. I only needed to paint a few, so they were quick to dry. To make this gift extra personalized, use the sharpie to draw pictures, sign your name or write a cute message to Dad on the toy. As my Grandma would say, "Make sure you date it!"
Once the blocks/toy are dry, arrange on the base so that you know how to glue it all together. Double check you have glued all the blocks to each other. Hold the blocks in place until dried completely . Make sure the prop is glued completely to the base.
Because I had done a test run of propping my phone and tablet against the toy, I knew I would need to add something else to keep the tablet from slipping off. For this, take your 2 push pins and put one at each corner of the frame by pressing them into the cardboard, or image in my case. The tops of the push pins should rest on the top corners of the frame. The push pins will serve as a ledge to hold the tablet.
Seal it up! Paint some Mod Podge over the entire sculpture. I used 2 coats. Paint over the push pins too so that they are extra secure. Once dry, its ready to be used! I left a little room on the base so that you could fit a few pens, and I kept the top of the cubic sculpture flat so that you could put a coffee mug on it too. It's colorful, artistic, and multi-purpose!
 *For Glass or Plastic protectors: Read the entire paragraph before starting!
Flip your frame over so the back is facing you. Remove the cardboard back of the frame, then remove the glass or plastic protector. Next, put a few dabs of glue around the inner edge of the frame. Take the cardboard backing and place it back down on top of the glue; hold in place until glue dries. Make sure the smoothest, flatest side of the cardboard is facing down. Then, put the glass or plastic protector down on top of the cardboard and secure with hot glue. The glass or plastic will reinforce the cardboard which will now support your phone or tablet. If your frame has glass, it would be wise to cut a few strips of felt and glue to the bottom of your base so that the glass does not slide around on your desk.  It's important to be sure this sculpture is sturdy and safe.
Find Cheryl at Cheryl Elizabeth Crafts and on Facebook at Cheryl Elizabeth Arts, Crafts and Special Events
Also, don't forget to check out the *FREE* online classes over at Scrapbook.com – try something new this summer!